Life of luxury: 11 top golf courses in Benahavis & Estepona
By Julia Nilsson on - 11m. reading time
When it comes to golf, Marbella needs no introduction. And not far from it, the Estepona area is quickly gaining stature as home to no less than 30 golf clubs. Many are well-known, like Villa Padierna, San Roque Club and the Alcaidesa Links Golf Resort. While some of the best golf courses in Spain lie but a short drive away: Finca Cortesín Golf Club, Real Club Valderrama and Club de Golf La Reserva Sotogrande. Nearby, the Benahavis area is regarded as a luxury hotspot on the Costa del Sol, with unforgettable panoramic views. Think unspoiled natural beauty of the valleys and mountain foothills. "Breathtaking" is where you begin!
Featuring excellent food, wine and a wealth of outstanding golf courses, the municipalities of Estepona and Benahavis are a perfect destination for golfers who also enjoy the finer things in life. Boasting all amenities, high-end urbanisations and independent villas, these areas are extremely attractive for property buyers. With the surrounding golf courses bright points of luxury living.
Discover a taste of properties in Estepona…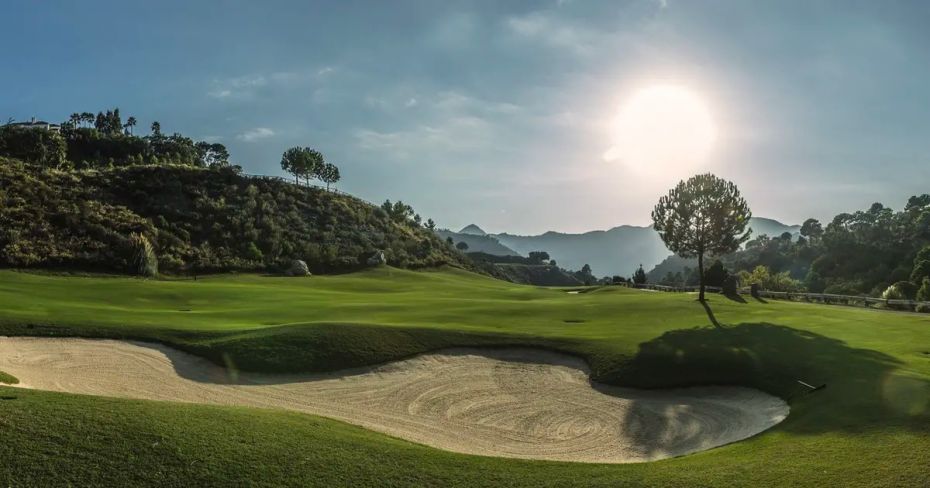 La Zagaleta Golf & Country Club
'Unique' is the word when it comes to magnificent La Zagaleta. Located within the fabulous golf and residential community on the Ronda road, this gated community´s two 18-hole treasures count as the very best golf courses in Benahavis. Providing amazing views, their fairways are perfectly integrated into the stunning natural landscape and considered one of the finest layouts in Spain.
Zagaleta Old Course was created by the Californian architect Bradford Benz with absolute priority given to preserving the natural surroundings and wild beauty. Zagaleta New Course adds a new dimension to the course's character. Inaugurated in 2005, it merges golf and nature thanks to designer Steve Marnoch and Jonathan Gaunt, who took great care to ensure the course blends with its protected surroundings. The exclusive club is strictly for members and their guests.
Privacy, security and exceptional services distinguish this as one of Europe's finest residential resorts. In short, owning a property in Zagaleta opens up a world of true privilege and unparalleled quality of living.
Discover these incredible properties for sale in La Zagaleta.
How many courses are in Villa Padierna Golf Resort?
Alferini, Los Flamingos and Tramores Golf Clubs are part of the luxury golf resort crowned by the super-prestigious Villa Padierna Palace and Villa Padierna Golf Academy. Designed by the renowned architect Antonio García Garrido, these clubs and their 18-hole courses are among the most exclusive on the Costa del Sol. The area is also famed for its luxury properties, richly varied in types and styles.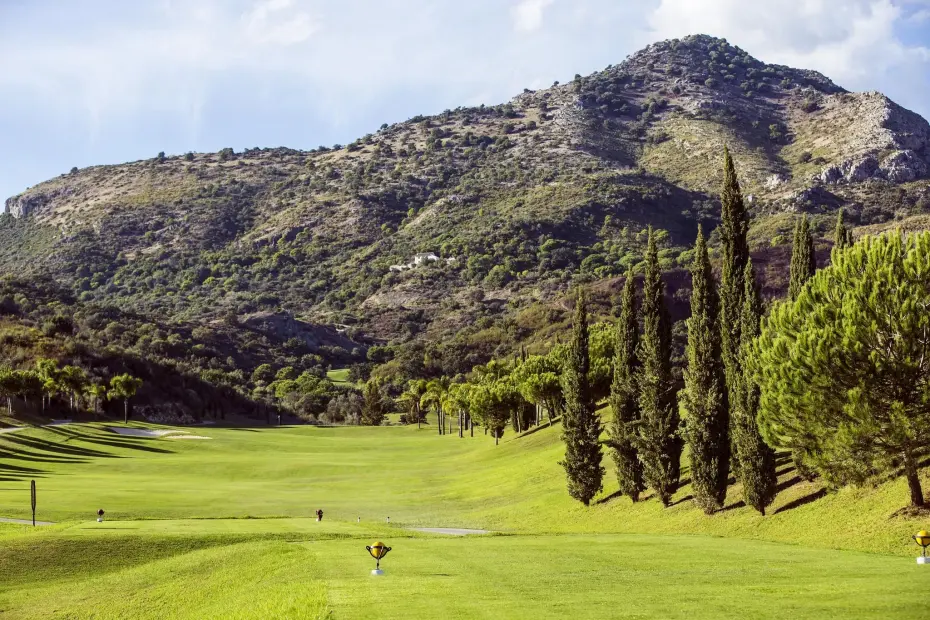 Alferini Golf
Alferini is the most challenging of the 3 courses of Villa Padierna. It is famed for its extreme respect of the natural habitat and environmental conservation. Designed to be in perfect harmony with its surroundings, the club is noted for hosting special competitions and major tournaments.
Los Flamingos Golf
This course is also characterized by its careful integration with the landscape and its rich variety of trees and delightful views over the Mediterranean sea, making it a joy to play. Unsurprisingly, Flamingos Golf has been home to prestigious tournaments such as the European Seniors and the Female Open Spain.
Tramores Golf
The third golf course of Villa Padierna is an executive course that takes less time to complete but delivers great enjoyment. Nestled in a beautiful setting between valleys with impressive views over the Mediterranean, Tramores provides golfers excellent opportunity to develop their short game.
Find the property for you in Los Flamingos.
La Resina Golf
Located on the New Golden Mile of Estepona, in the heart of the "Golden Triangle" of Marbella-Benahavis-Estepona, this 9-hole course is considered one of the best in Andalucia.  Craftily designed by Craig Cook and Bradley Smith around beautiful lakes and ancient olive trees, it honours the picturesque surroundings and local terrain. The skilful landscaping reminds one of the world-famous Augusta Golf Course in Georgia, USA. Thanks to this, La Resina is affectionately nicknamed 'Little Augusta."
The surrounding area is a golfer's paradise: The Golf Valley of Nueva Andalucia is but 16 km away, while dozens of elegant golf and country clubs of Marbella and Estepona are within a 5 – 25 min drive. The Ryder Cup and World Championship course in Valderrama, and the European Polo Club and yachting venue of Sotogrande are just 30 min away.
Almost the entire area around La Resina and Selwo, Estepona offers newly built or off-plan developments as well as projects under construction. It provides opportunity for big savings if you invest before the upcoming area sees a significant increase in property values.
When Cristiano Ronaldo decided to expand his property empire by investing 1.5 million euros in a modern mansion on the Costa del Sol, he chose a new development of high-end villas next to the La Resina golf course. Already, the complex is nicknamed the 'Athletes' Heaven' and the 'Superstar Cul De Sac.' Residents include sport stars Steven Carr, Harry Winks and Thomas Sorensen.
Look at our range of properties for sale near La Resina.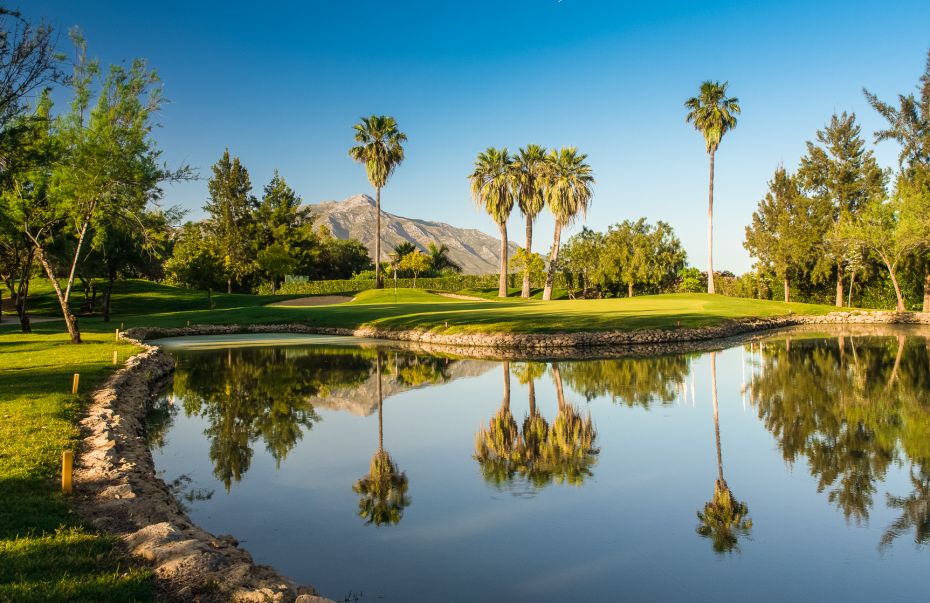 La Quinta Golf - Benahavis
Located 7 minutes away from Puerto Banús and next to the Golf Valley of Nueva Andalucia, La Quinta Golf & Country Club is one of the best golf courses in Benahavis municipality. It fills a place of exceptional beauty: between sea and mountains. Catering to all playing levels, the magnificent course of 27 holes with 3 different combinations was designed by Manuel Piñero. It also features an exclusive sports club, 5-star hotel, spa, restaurant, and more. La Quinta´s luxurious villas, residential complexes and gated communities with pleasant common areas guarantee security, privacy and a comfortable lifestyle second to none.
Curious about places to buy in La Quinta?
El Higueral
Set amidst the gentle slopes of the foothills of Benahavís and the Guadalmina river banks, El Higueral is a splendid 9-hole course in a circular route, sporting elegantly styled lakes and spectacular vistas. It offers a memorable golf experience and frequently hosts the Marbella Tour, a weekly event for professional golfers on the Costa del Sol.
Known for its premium quality and reputation, the Los Capanes urbanization is perfectly integrated into this picturesque golf resort.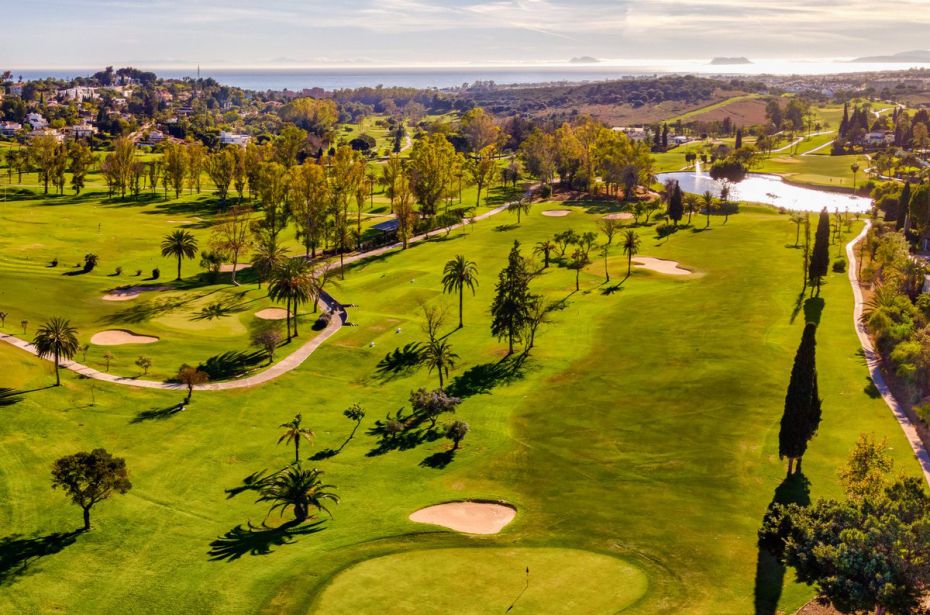 El Paraiso: who designed it & why is it better than ever?
Designed by Gary Player, El Paraiso is one of the best-loved championship courses along the Costa del Sol. Nestled between La Concha mountain and the Mediterranean sea, the course offers a true golfing test for all levels of players. To celebrate its 50th anniversary in 2022, major investments were made in the golf course and its facilities. With 18 new greens and a dedicated team, the course is in immaculate condition and a pure delight to play. The ranch-style clubhouse has recently been renovated, and is a model of excellent food and service. El Paraiso is home not only to El Paraiso Golf Club, but close to Benavista Country Club.
Surrounded by mature trees and subtropical plants along with magnificent views of the coast and mountains, El Paraiso achieves a serene and peaceful atmosphere. The long-established area stretches up from the coast to El Paraiso Golf Club into the valley beyond. It´s highly desirable residential environs hold a mix of established and brand-new apartment complexes, townhouses and villas.
Discover properties for sale in El Paraiso.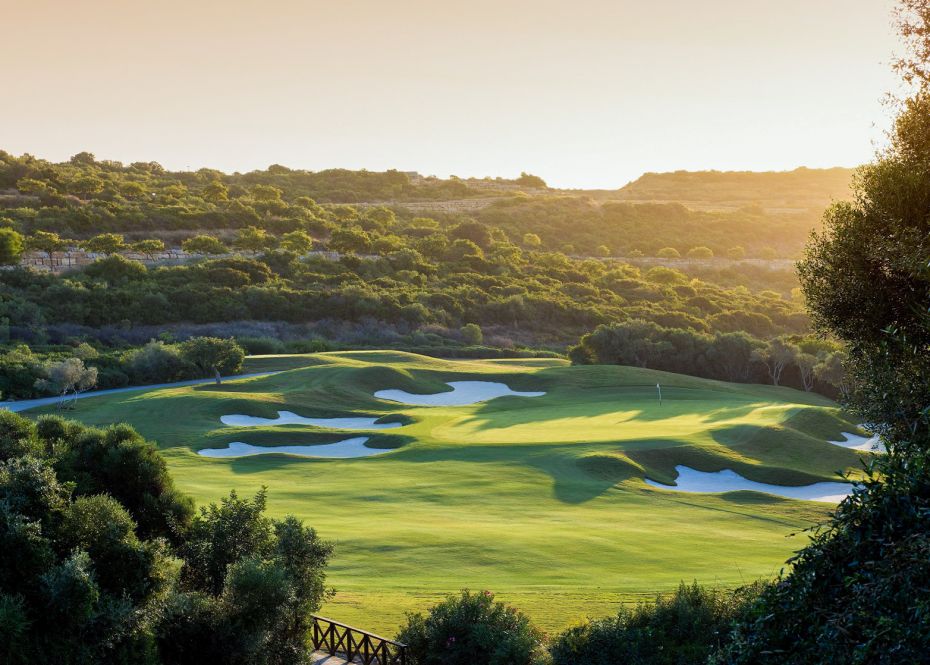 Finca Cortesin
Finca Cortesin is set on the edge of Casares, between Marbella and Sotogrande, a 15-min drive from Estepona and 30 min from Marbella. It is globally renowned for providing one of Europe's most unforgettable golfing experiences, and for good reason. Its 18-hole championship golf course is the star of the show, rated among Spain's best. As you´d expect from a luxury resort featuring one of the world's top 50 hotels, the Finca Cortesin Hotel, restaurants, spa and clubhouse are simply exquisite. Finca Cortesin has hosted numerous high-profile events including the Volvo World Match Play Championship (on multiple occasions) and the Solheim Cup in 2023.
Designed by highly-acclaimed architects, the developments of modern apartments and single-family villas within the Finca Cortesin resort signify the best luxury designer residences with stunning sea and golf views.
The marvellous Finca Cortesin offers several properties for sale.
Which legendary golfer created Los Arqueros?
Set in the rolling foothills of Benahavís between the mountains and sea, Los Arqueros was the first golf course designed on the Costa del Sol by Seve Ballesteros, whose main desire was to adapt it to the harmonious environment. The clever course design follows the contours of the land and blends in with the natural surroundings alongside breathtaking views, sunsets and sunrises. As the golfer with one of the most famed track records in the history of golf, Ballesteros had a reputation for designing golf courses only he can play. It´s said that Los Arqueros shares the 'Ballesteros DNA'. Meaning a tricky layout that requires good strategy. Every hole is very different from the last, forming a course to challenge players of all levels. To complement the action on the links, Los Arqueros Clubhouse always buzzes with the ambience of upbeat sportsmanship.
Originating in the 1980s and bordering some of the most exclusive residential areas of the coast, Los Arqueros once belonged to La Zagaleta's owner Adnan Kashoggi. Today the exclusive gated golf resort offers fabulous properties of traditional or modern Andalusian style as well as contemporary houses offering a lifestyle of exceptional comfort, created to the highest standards and featuring cutting-edge technologies. All in service of comfort.
Looking for properties for sale in Los Arqueros?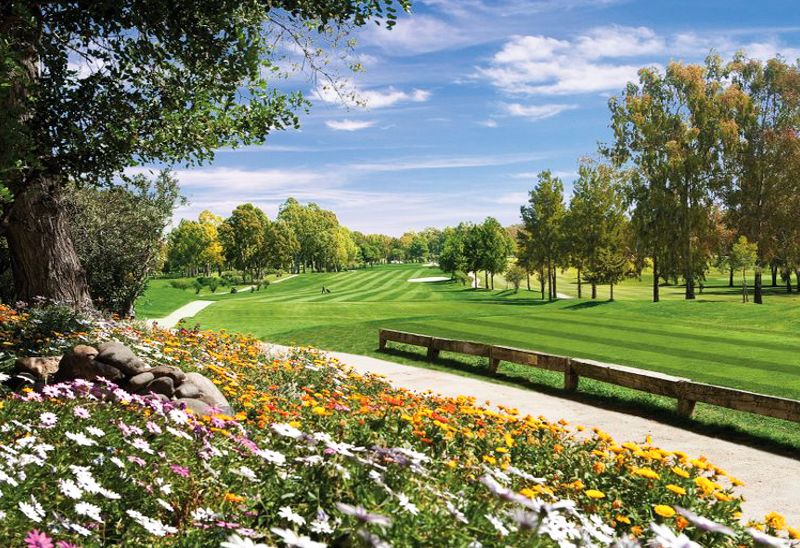 Atalaya Golf & Country Club
Founded in 1968, Atalaya Golf and Country Club is amongst the oldest and most popular golf courses on the Costa del Sol. Set against the stunning backdrop of the Sierra Blanca Mountains, it provides wonderful panoramas of the surrounding countryside, Mediterranean and Gibraltar. The club holds two superb 18-hole courses. Designed by the highly respected German architect Bernard von Limburger, Atalaya Old Course presents a lovely challenge – in both senses of the term – for all golfers. Designed by Paul Krings, Atalaya´s New Course is totally different in character: rather tricky, requiring all your attention.
Atalaya is a perfect location for those who want to live quietly within short distance of all amenities and services, international schools, and shopping centers. Puerto Banus is only roughly 8 km away. The area offers traditional villas, modern houses and new-build contemporary developments with stunning golf, sea and mountain views.
Properties for sale in Atalaya
This gives but a glimpse of why to invest in the golfing areas of Estepona or Benahavis, whether to own a holiday home or a permanent residence. If you are seeking a quality lifestyle in a prime golfing community, Drumelia would be delighted to offer you outstanding properties in prized locations on the Costa del Sol. Think luxurious amenities, top-level security and often, direct access to the golf courses. Making it more than a golfer´s dream, but one for living.
Safe to say you love golf?
Learn more about the master golfers who shaped Marbella´s proud golfing history, and don´t forget to check out our detailed guide to the best golf courses and country clubs in Marbella.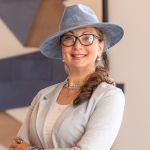 Copywriter
Julia Nilsson
Cosmopolitan since birth, Julia prides herself on being multilingual and has a doctorate degree in international auxiliary languages (Esperanto) as…