Marbella Golden Mile. Where is it? It's History and the Best Properties for Sale
By Salma Hwedi on
Welcome to the spiritual home of sophistication and luxury living in Marbella. Often compared to the eccentric and lavish playground of Miami, Marbella is the jewel of the Mediterranean. But in reality, thanks to its glamourous appeal and timeless elegance, Marbella is more akin to Beverly Hills; and together with the fabulous local climate, both visitors and residents can enjoy the relaxing and leisurely environment for which the Costa del Sol has been renowned for over five decades.
And in the bustling centre of this diverse, beautiful and very unique part of the world, sits Marbella's famous Golden Mile – an elegant palm-lined 8km-long boulevard which is flanked by some of the most valuable and desirable real estate in Europe. When you live on the Golden Mile, your neighbours will be accomplished politicians and successful business owners, Spanish and European aristocrats, Arabian Sheikhs and even Kings. Want to know more about this amazing luxury locale? Here's an all-access guide, giving you everything you need to know about Europe's prime real estate hotspot.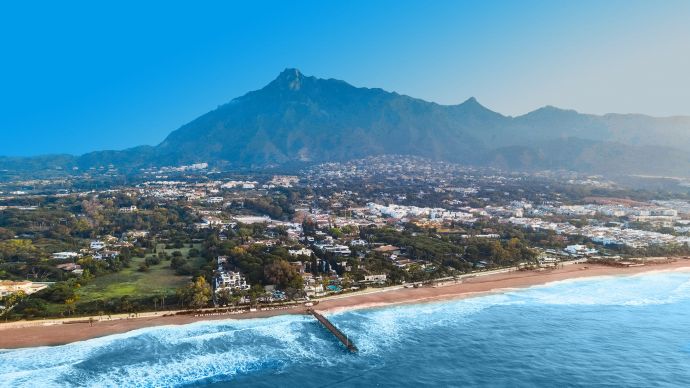 Where is the Golden Mile in Marbella?
The famous Golden Mile in Marbella is a stunning residential area, and one of the most luxurious addresses on the Costa del Sol. Reaching just over 8km (or approximately 4.9 miles), the Golden Mile isn't necessarily a strictly defined geographic location. From west to east, the boulevard sprawls from Puerto Banús to the epicentre of Marbella. This famed stretch boasts beautiful beaches, mountain views and a wealth of premium properties for sale.
Here you'll discover impressive palaces, stunning villas and exclusive apartments set within lush surrounding greenery, all just a few minutes drive from Marbella's Old Town and the exciting attractions of Puerto Banús marina. A classic style and effortless elegance are refined to perfection in the Golden Mile estates, with each and every property offering the highest standards of luxury, comfort and security.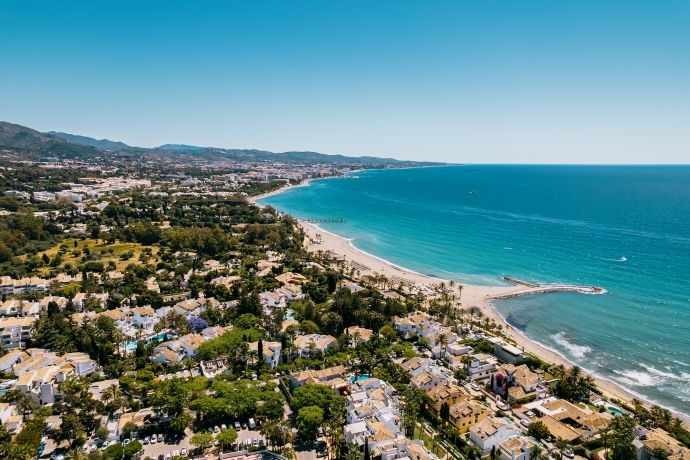 Luxurious mansions on large estates line the coast between the famous Puente Romano Hotel and Marbella Club Hotel, and their stylish beach clubs attract the crème de la crème from all over the world. This area is home to the best shopping facilities – with many leading international designer brands having shops and luxury retail stores here. Not to mention the most exclusive nightclubs and bars, many of which are open from dusk until dawn. There are the finest restaurants offering a huge range of dining options: from international cuisine to traditional Spanish food, and even critically acclaimed Michelin-star establishments with world-famous chefs and sommeliers on hand to bring you the finest feasting experience imaginable. For a more casual atmosphere, there's no shortage of lovely family-run cafés with tranquil terraces for enjoying relaxing afternoons with a coffee, and warm evenings with something a little stronger.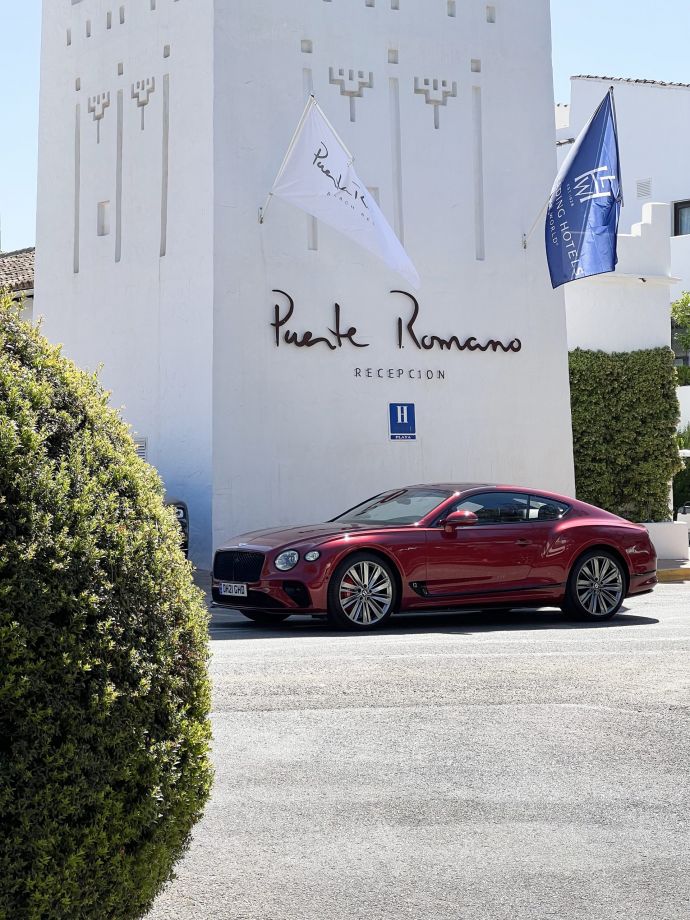 The Golden Mile is not just a location, but a lifestyle. Properties for sale on the Golden Mile are rare, and demand is always incredibly high, so don't hesitate to contact our team, so we can help you find your perfect home in Marbella.
History of the Golden Mile in Marbella
Now a staple of timeless luxury, early developments initially began in the 1950s with established examples like the iconic Marbella Club Hotel, built in 1954 by Alfonso de Hohenlohe, and the Puente Romano Hotel that first opened its doors in 1976. Hollywood stars, young socialites and millionaire playboys flocked to Marbella during its budding golden years, paving the way to make it the desirable destination it is today. Now the pinnacle of luxury living, this famed strip is home to bustling nightlife, world-renowned cuisine, incredible shopping, prestigious hotels, and so much more.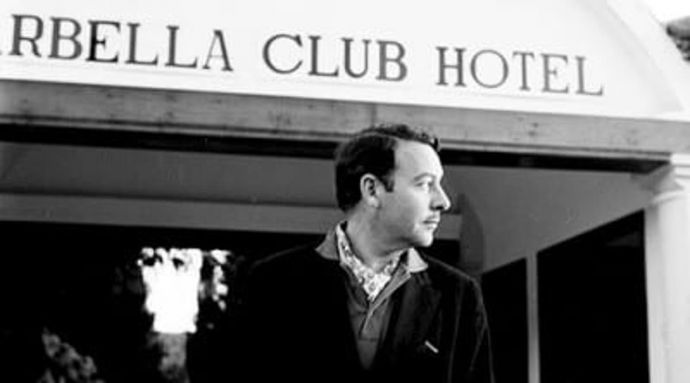 Since its inception, the local landscape has evolved significantly, and Marbella has become a property developers' paradise. Marbella's magnetism has attracted architectural talent from across the world to add to the rich mixing pot of design and culture that make up the fabric of this amazing city.
Even now, some 70 years on from its rise to fame with the wealthy jet set community, the Golden Mile and wider Marbella Metropolitan area continue to be the destination of choice for celebrities and Hollywood's elite. Sylvester Stallone, Jason Statham, Wesley Snipes, Michelle Obama, Shirley Bassey, Eva Longoria and Simon Cowell all regularly choose Marbella's stunning coastline as their home-from-home during the spring and summer seasons. And let's not forget about long-time resident and stalwart ambassador for the region of Andalusia, Antonio Banderas, who regularly resides in a secluded beachfront villa in Los Monteros.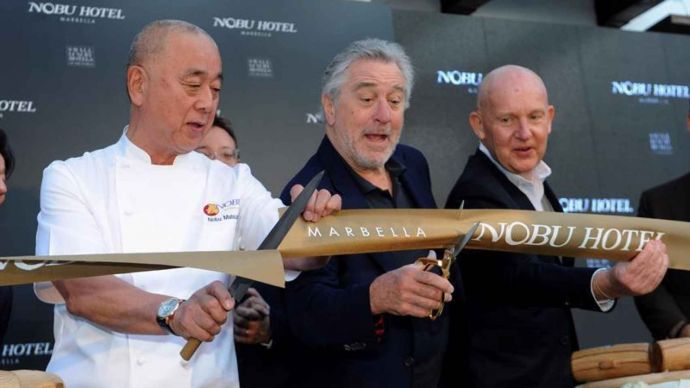 The luxury property market here in Marbella mirrors that of Beverly Hills. The exclusive residential areas, such as North Roxbury, Bedford, Camden, Rodeo Drives and Bel Air, can all be likened to luxury locations in Marbella, such as La Zagaleta and El Madronal – where Sting and Rod Stewart stay whilst in Marbella – The Golden Mile, Sierra Blanca and Sotogrande, with price tags to match.
Why is Marbella Golden Mile so popular?
With so many comparisons drawn between Beverly Hills in "The Golden State" of California and Marbella, it's no wonder that this stretch of Spain's southern coastline and the Costa del Sol attract such appeal on a global scale.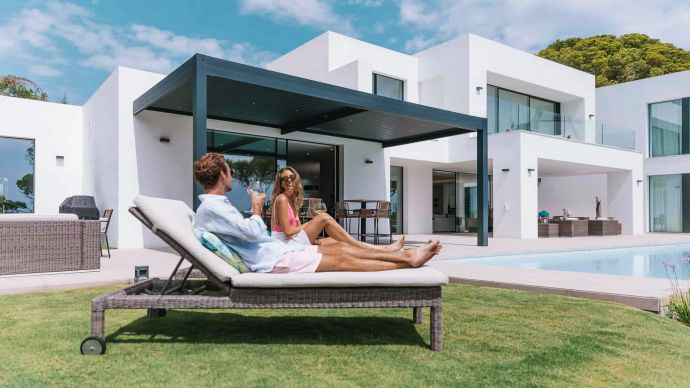 The references to Beverly Hills aren't just thanks to places like The Marbella Club, Puente Romano and some of the best restaurants and clubs on the coast. Like California, Marbella enjoys a glorious climate but even manages to best The Golden State with an average of 320 days of sunshine each year. In contrast, Beverly Hills has forty days less, with 280. The southern Spanish coast is well-known for its microclimate and sun-drenched beaches, similar to the lifestyle enjoyed by Californians, but without the freeways, congestion and hours of travel between where you may wish to eat, drink, work and relax.
Marbella isn't just a popular destination for relocation or buying a second home, tourism also plays a huge part in what makes the Costa del Sol such a fun and vibrant location all year round, and there are plenty of incredible hotels and luxury resorts to explore if you're looking to summer somewhere sensational.
Properties for Sale on the Golden Mile
Below this article, you can take an up-close and personal look at some of the most sought-after properties in Marbella, located along the Golden Mile – the epicentre of glamour and one of Europe's most desired residential destinations.
We hope this will give you a small taste of what's on offer when searching for a property on Marbella's famous Golden Mile. If you want to buy, sell or rent a property in Marbella, the Drumelia team is your premiere choice. Reach out today, and we can help you take your next steps. You can contact our team at any time.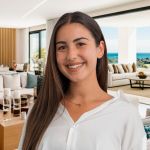 Community manager
Salma Hwedi
Salma Hwedi is the Community Manager at Drumelia Real Estate. Her primary duties involve copywriting, content creation, and social media…