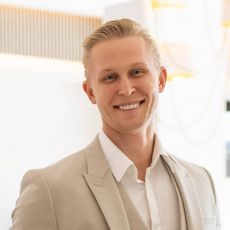 Sierra Blanca The perfect gated community
By Artur Loginov on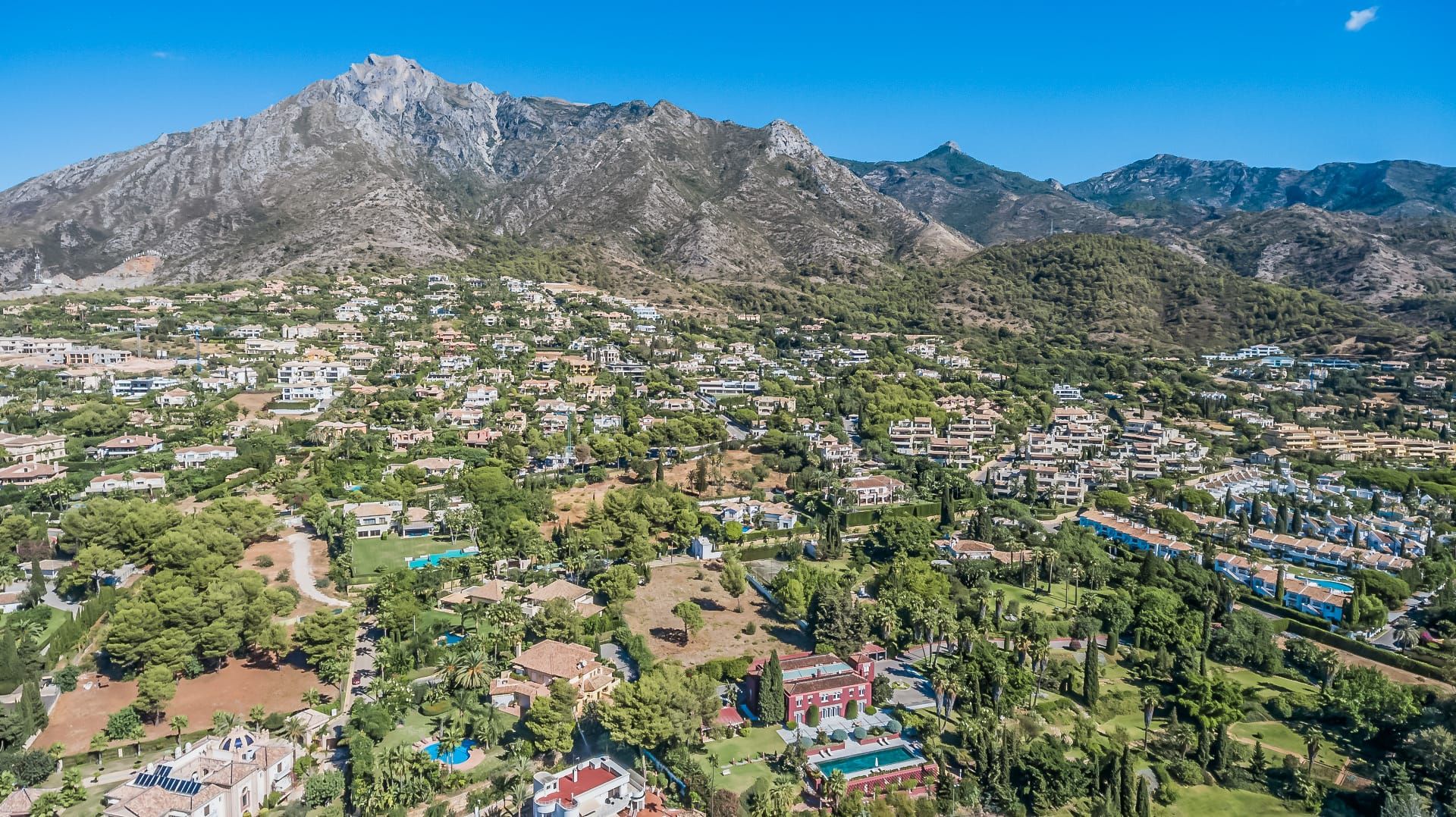 "Location, location, location" is not just a common mantra in real estate. The nature of the neighbourhood in which we reside directly affects the lifestyle.
Beautiful Sierra Blanca is a truly privileged part of southern Spain, justly appreciated as one of the most sought-after areas in the whole Mediterranean.
It is almost entirely developed; it consists of around 250 high-end houses and has very few plots left. The prices are 1.000 Euros per square metre of land and sometimes higher. A minimum plot is about 1.200 m2; a medium plot is around 2.000 m2, and the biggest one boasts 1.8 hectares. Here the houses are built much closer to each other compared to La Zagaleta. However, you still get plenty of privacy and very impressive panoramic sea views being 300 m above sea level but at the same time very close to everything that we may need for the most exclusive lifestyle.
Welcome to the lifestyle of Sierra Blanca.
Driving through the magnificent Sierra Blanca is an absolute pleasure. At once, you can see and feel the high level of the elite neighbourhood, one of the most exclusive residential areas on the Costa del Sol and we dare say of all Europe.
Located at the foothills of the mountain range with the same name, with the iconic peak La Concha, and surrounded by a forest of protected Mediterranean pine trees, Sierra Blanca sits just above the famous Golden Mile of Marbella. The wide streets are named after the great musicians and composers like Mozart, Bach and Chopin and have sidewalks, beautiful greenery and imposing property facades everywhere you look. The beauty of Sierra Blanca lies in the quality of life it offers for people of all ages.
Sierra Blanca is known for its high level of security and comprehensive approach to providing safety and comfort for its residents - entrance checkpoints, reliable fences, barriers that close off the streets and internal roads, 24-h surveillance by dedicated security services and cameras, mobile patrols and intelligent alarm systems installed in the properties.
Another factor to consider is the multilingual and international community of homeowners who have meticulously chosen Sierra Blanca houses as their main or holiday residences.
Sierra Blanca prices.
The local property prices vary from 2 million Euros for the cheapest units up to above 20 million for the most expensive ones. The medium price would probably be around 5-6 million mark. The sales are currently going very well in the luxury sector of Sierra Blanca, the same as in La Zagaleta.
Properties in Sierra Blanca sold by Drumelia.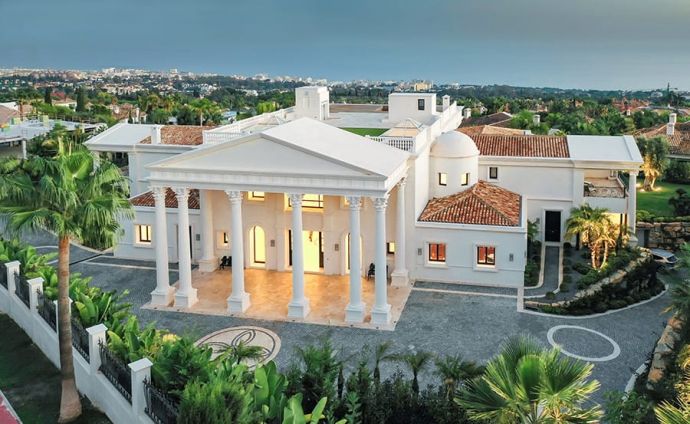 Drumelia always has been specializing in Sierra Blanca area, and we have sold more than 30 properties to our clients. Some of the latest Drumelia's sales in Sierra Blanca happened in February and March 2022.
We sold the most amazing classic mansion ever built in Sierra Blanca. In 2019, Forbes valued this property at 40 million Euros (though this figure does not reflect the actual final selling price, which, as you understand, we cannot reveal). In addition, we sold the famous Villa Symphony, which was listed exclusively at 13.5 million Euros. Marbella still remembers the party we launched at this property as a part of the marketing campaign to refresh the image of the house.
Drumelia sold to its client another beautiful Andalusian estate set on a plot of 4.200 m2 and listed at 9 million Euros.
As you can see, the market is moving very actively, and we actually have a shortage of listings in Sierra Blanca now! Therefore, if you think of putting your house for sale but have doubts, maybe this is the right moment to contact us!
Luxury apartments and townhouses for sale in Sierra Blanca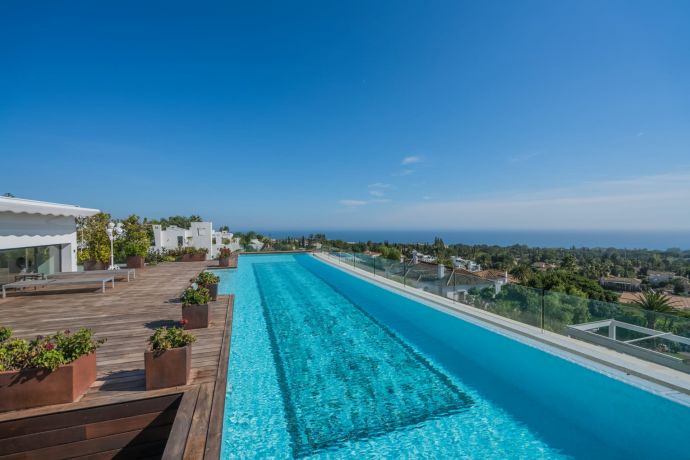 Inside Sierra Blanca, you can find not only villas. Excellent townhouses and apartment complexes built to the highest quality standards blends harmoniously into the Sierra Blanca scenery.
There are two well-known Andalusian-style apartment communities where you can find units between 400.000 Euros and 1.000.000 Euros approx., depending on what you are searching; and there is a modern townhouse community as well. The best landscape architects have created spectacular gardens perfectly integrated into the overall architectural ensembles.
Gated communities next to Sierra Blanca.
Outside of the perimeter of Sierra Blanca, but right next to it, you find Cascada de Camojan, which is another excellent urbanization of the same level. Some clients prefer Cascada de Camojan, as it has less construction and more nature. Another great urbanization is Altos Reales, set just below Sierra Blanca, very petite and intimate, with only about 50 houses in the new part and about 20 in the old one.
Very nice opportunities can be found in several more urbanizations, like Marbella Hill Club, Los Picos de Sierra Blanca, La Quinta de Sierra Blanca and Nagueles. There are also several apartment communities in these areas, including fabulous Reserva de Sierra Blanca.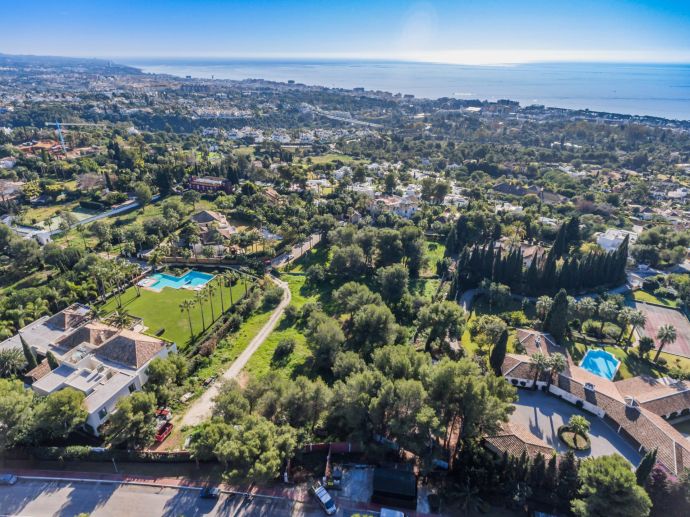 Schools and other points of interest next to Sierra Blanca.
What makes life here so easy and attractive?
There are many reasons why people find Sierra Blanca so appealing, including its beautiful nature and proximity to Marbella centre (2.5 km and less than a 5- minutes drive), sandy beaches, golf courses and tennis clubs, numerous international schools (1 km to Swans International; 2.2 km to Swans' school for smaller kids; 1.4 km to Marbella International University, etc.). There are renowned private hospitals and clinics nearby, including the famous Buchinger, to get back in shape (750 m away). Fashionable boutiques, fine restaurants, trendy discotheques, and the prestigious Golden Mile nightclubs are just a few minutes drive. The legendary luxury hotels Puente Romano Beach Resort and Marbella Club Golf & SPA resort, with a dozen excellent restaurants, are 4 km away. Check out Leña, La Milla and Celicioso! Fabulous Puerto Banus with all its adventures, bustling social life and luxurious amenities, the huge shopping centre and casino are 7 km away. Aloha Golf Club is 5 km away. Anything you need is within 10 km, which of course saves you a lot of time and is very comfortable.
It is our pleasure to have an opportunity to show you the beautiful Marbella's real estate world and its high-end part Sierra Blanca, which is not just a location, but status and exceptional lifestyle!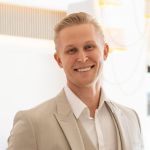 CEO & Partner
Artur Loginov
Artur joined Drumelia in 2009 as a sales agent and since 2015, has been the head of the Sales Department.…
Eat & Drink

Health & Wellness

Education

Shopping

Golf

Hotel
Properties for sale in Sierra Blanca
We work hard daily to bring you every good investment or luxury property for sale that hits the real estate market in Sierra Blanca. Find all available property for sale options in Sierra Blanca and other close neightboorhoods in Marbella Golden Mile.
View all properties